CONTINENTAL O-170
The Continental O-170 engine is the collective military designation for a family of small aircraft engines, known under the company designation of A50, A65, A75 and A80. The line was designed and built by Continental Motors commencing in the 1940s. It was employed as the powerplant for civil and military light aircraft.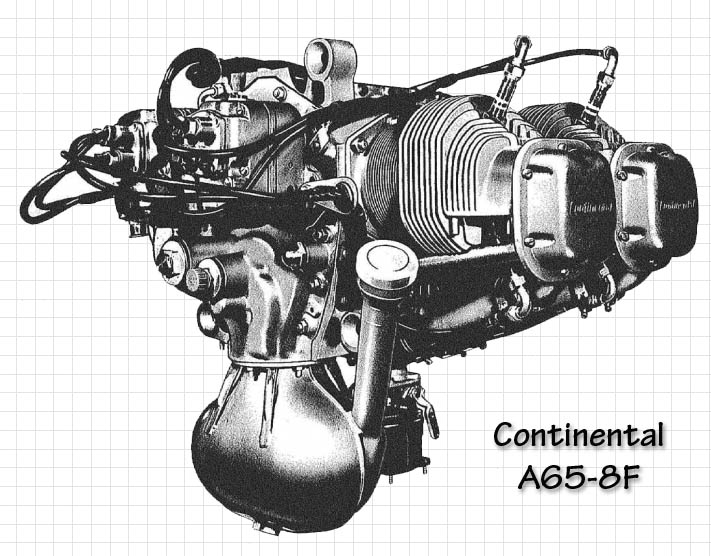 The horizontally opposed, four-cylinder engines in this family are all identical in appearance, bore, stroke, dry weight and piston displacement. All feature a bottom-mounted updraft carburetor fuel delivery system. The higher power variants differ only in compression ratio and maximum allowable rpm, plus minor modifications. The lower power versions are fully convertible to the higher rated versions.
Design & Construction:
In all models of this family of engines the cylinder heads are of aluminum alloy, screwed and shrunk onto steel barrels. Spark plug inserts and intake valve seats are made from aluminum-bronze alloy, while the exhaust valve seats are steel. The engines all employ hydraulic tappets which operate in aluminum guides that are machined into the crankcase. The tappets are built from four parts, a cam follower body, cup, cylinder and piston and operate with clearances of 0.03 in (1 mm) to 0.11 in (3 mm). The pushrods are steel and feature pressed-in ball ends.
Lubricating oil is delivered under pressure from the 4 US qt (4 L) oil sump to the drive bearings and the crankpins though the crankshaft. The cylinder walls and pistons are spray lubricated. Normal operating oil pressure is 35 psi, with minimum idle oil pressure 10 psi.
Specifications: O-170-3 or A-65-8
General characteristics
Type: 4-cylinder air-cooled horizontally opposed aircraft piston engine
Bore: 3.875 in (98 mm)
Stroke: 3.625 in (92 mm)
Displacement: 171 in³ (2.8 L)
Length: 31 in (787 mm)
Width: 31.5 in (800 mm)
Height: 29 5/16 in (745 mm)
Dry weight: 170 lb (77 kg)
Components
Valvetrain: One intake and one exhaust valve per cylinder, pushrod-actuated.
Fuel system: Updraft carburetor
Fuel type: 80/87 octane avgas
Oil system: Wet sump
Cooling system: Air-cooled
Performance
Power output: 65 hp (48 kW) at 2,300 rpm
Specific power: 0.38 hp/in³ (17.1 kW/L)
Compression ratio: 6.3:1
Fuel consumption: 4.4 US gal/hr
Oil consumption: maximum desirable 0.37 US quarts/hr
Power-to-weight ratio: 0.38 hp/lb (0.62 kW/kg)

---
Applications:
– Taylorcraft L-2
---
[Source -
Wikipedia
]