---
POWERPLANTS RESOURCE CENTER
>
UNITED KINGDOM
>
PREVIOUS PAGE
---
Bristol Mercury
---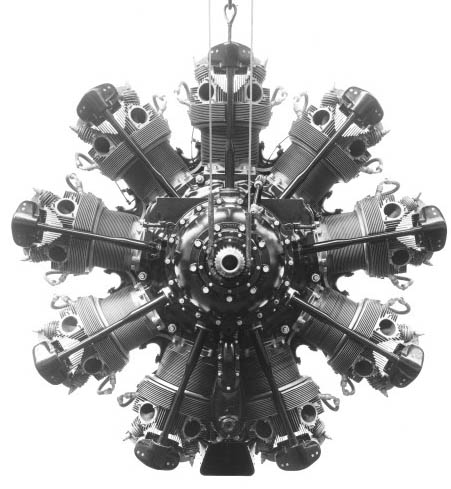 ---
The Bristol Mercury is a nine-cylinder, air-cooled, single-row, piston radial engine. Designed by Roy Fedden of the Bristol Aeroplane Company it was used to power both civil and military aircraft of the 1930s and 1940s.
Specifications:

Mercury XV and 25

Mercury XX and 30

Bore:

5.75 in. (146mm)

5.75 in. (146mm)

Stroke:

6.5 in. (165mm)

6.5 in. (165mm)

Capacity:

1,520 cu. in. (24.9 li)

1,520 cu. in. (24.9 li)

Gear Ratio

0.5:1

0.5:1

Diameter

51.5 in. (1.307m)

51.5 in. (1.307m)

Weight (bare/dry)

1,065 lb. (483.5 kg.)

1,065 lb. (483.5 kg.)

Octane No.

87/100

87

Power: Take-Off

87 Octane:
725 hp @ 2,650 rpm

100 Octane:
905 hp @ 2,650 rpm


820 hp @ 2,650 rpm

Power: Maximum

87 Octane:
840 hp @ 2,750 rpm
@ 14,000 ft (4,270m)

100 Octane:
995 hp @ 2,650 rpm
@ 9,250 ft (2,820m)


870 hp @ 2,400 rpm
@ 2,500 ft (760m)

Power: Normal Climb

825 hp @ 2,650 rpm
@ 13,000 ft (3,965m)

810 hp @ 2,400 rpm
@ 2,500 ft (760m)

Power: Maximum Economical Cruise

590 hp @ 2,4000 rpm
@ 16,000 ft (4,880m)

605 hp @ 2,400 rpm
@ 9,250 ft (2,820m)
---
Design/Structure:
Cylinders
- Open-ended barrel machined from an alloy steel forging. Bores surface-hardened. Forged aluminium-alloy heads shrunk and locked into position.
Pistons - Full-skirted type. Machined inside and outside from aluminum-alloy forgings. One sindle and one double scrapper ring and two gas rings. Robust fully-floating, case-hardened gudgeon pins.
Connecting rods - "I" section, machined from steel alloy stampings.
Crankshaft - Two-piece, machined from alloy steel stampings. Front half incorporates a large diameter crank-pin, is surface hardened all over. Seperate tail-shaft for auxiliary drives. Carried on two main roller-bearings, with a deep-groove journal-bearing at the reduction end and steadying bearing in rear.
Crankcase - Machined from aluminum-alloy forgings, split on centre-line of cylinders and held with nine through-bolts.
Valve Gear - Two inlet and two sodium-cooled stellited exhaust valves and stellited seats per cylinder. Clearances bewteen rockers and valves automatically compensated for expansion. A two-row cam runs concentric with the crankshaft in front of the crank at one eigth engine speed in an anti-crank direction. It operates the tappets through rollers on floating bronze bushes, and thence by push-rods enclosed in oval tubes.
Carburation - Claudell-Hobson carburetter, with delayed action acceleration pump, variable datum automatic boost and mixture control with slow-running runout. controlable hot and cold air-intakes. Hot oil circulated around the chokes.
Supercharger - High-speed centrifugal type. Driven off the crankshaft through spring-drive and automatic centrifugal clutches. Aluminum-alloy supercharger casing with integral diffuser vanes. Aluminum-alloy volute casing. Whole unit mounted behind the rear wall of the crankcase on nine crankcase bolts.
Ignition - Dual ignition by two B.T.H. or Rotex magnetos transversely mounted on rear cover and driven by bevel gearing from crankshaft. Variable-timing device interconnected with carburetter to give best setting for various throttle openings. Completely screened ignition system.
Lubrication - Dry sump, with pressure feed. Duplex gear pump incorporating pressure and scavenge units in one assembly. Seperate feed and scavenge filters. Special device provides high initial oil pressure for rapid opening to full power.
Airscrew Drive - Self-centralising bevel-epicyclic gear. All bearings pressure-lubricated. Airscrew shafts suitable for either fixed or controllable-pitch hubs. Oil-transfer housing and internal oil-seal provided for Hamilton pitch-controll mechanism.
Accessory Drives - Provision for single or dual feed pump, high and low pressure air-compressors, shaft-driven electric generator, hydraulic pump, vacuum pump.
Starter System - Combined electric and hand turning gear.
Exhaust System And Cowling - Complete standardised units, combining ring-type exhaust manifold and long or short-chord cowlings are available. Long chord cowlings embody controllable gills.

---
Applications:
– Airspeed Cambridge
– Blackburn Skua
– Boulton Paul P.108
– Bristol Blenheim
– Bristol Bolingbroke
– Bristol Bulldog
– Bristol Bullpup
– Bristol Type 101
– Bristol Type 118
– Bristol Type 133
– Bristol Type 142
– Bristol Type 146
– Bristol Type 148
– Breda Ba.27

– Fairey Flycatcher
– Fokker D XXI
– Fokker G.1
– General Aircraft Hamilcar X
– Gloster Gamecock
– Gloster Gladiator
– Gloster Gauntlet
– Gloster Gnatsnapper
– Gloster Goring
– Hawker Audax
– Hawker F.20/27
– Hawker Fury
– Hawker Hart
– Hawker Hind

– Hawker Hoopoe
– IMAM Ro.30
– Koolhoven F.K.52
– Miles Martinet
– Miles Master
– PZL P.11
– Saab 17
– Supermarine Sea Otter
– Valmet Vihuri
– Vickers Jockey
– Westland Interceptor
– Westland Lysander

---
Sources:
Wikipedia
Jane's All The Worlds Aircraft 1943-1944
, New York, The Macmillan Company
---
POWERPLANTS RESOURCE CENTER
>
UNITED KINGDOM
>
PREVIOUS PAGE
---